(along with some images of what I think the characters look like,) be sure to check it out!
♦There are so many characters, all well 'fleshed out' in Crimson Midnight, was it difficult keeping all the characters straight? Did you have any visual aids or similar?♦
Cassidy: We spent a lot of time writing biographies for each character and browsed through magazines and catalogues to find people who resembled our image of each character. We wanted to make sure that we had the same visual in our head.
Amos: The biography is really important for getting in to the heads of everyone and great for getting a grasp of how they'd react to situations, how their feelings work etc.
♦Do you have a favorite character that you both enjoyed writing?♦
Amos: I enjoyed writing everyone, but I have to say that I enjoyed writing Raven the most.
Cassidy: I enjoyed writing Raven, Rose, Thistle, Roman…erm…I guess I enjoyed writing them all! I have to say though that I found Rose easiest to write.
Amos: Our fabulous, happy ensemble cast ♥ Love 'em!
♦Do y'all have any pictures that could be shared about how y'all envision some of the characters look?♦
Amos: We haven't got any pictures but we can tell you who we modelled them on.
Henry Cavill as Raven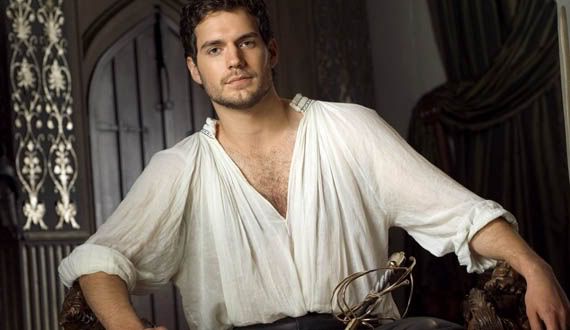 Alex Reid as Harold
Buffy-era Sarah Michelle Gellar (with British accent) as Rose
And any suggestions for Roman and Thistle for the forthcoming movie are welcome.
♦Is there anything specific that brought y'all together for writing this book, and anything specific that inspired you both?♦
*Amos stretches out on his sun-lounger while Cassidy cobbles together a concise response.
Cassidy:
*Glares at Amos*
Ahem, well, I would say that it was pure luck that brought us together. We were introduced to each other by Amos's boyfriend who is also a friend of mine. We discovered that we both shared a passion for books and were both writing a novel at the time. Once we finished our respective novels we decided to write something together. Crimson Midnight was our second project as a team, the first one has been shelved for now. I think aside from books themselves we find inspiration in each other.
Amos:
*Still on sun-lounger but raises his shades*
I agree. I think the main thing was a passion to write. And writing together is so much fun. It's so easy to get depressed or down about yourself and your work. But when you work as a team, there is no room for that. There is always someone to pick you up who understands exactly what you're going through, and who cares about your work just as much as you do. Plus, there is always someone to indulge in sugary snacks (brain food) with when things go tits-up.
Cassidy: His answer is only better because he had more time to formulate it!
♦Do you have a specific number of books planned for this series?♦
Amos: Sorry did I forget to discuss that with you?
Cassidy:
*Smiles sweetly*
Don't be silly, it just slipped my mind for a moment. We discuss everything don't we? Why don't you tell the nice readers how many books we have planned?
Amos:
*Yawns widely flashing perfect white teeth*
Why don't you?
Cassidy: We could do this all day but it's not getting us anywhere…
Amos: Seriously, we've got 4 in our head. But there possibly could be a 5th, depending on how the story goes.
♦Do you have any other writing projects planned together beyond this series?♦
Amos: Yes. We have several notepads filled with ideas. Will defo keep us going until we're old and grey.
Cassidy: We have something really exciting planned for after the Crimson Series is completed. I keep having flashes of inspiration about it and have made lots of notes.
*Amos grins and is then distracted by a hot surfer dude strutting by*
Cassidy: Um… Amos, how did that surfer dude get in to your back garden?
Amos: He has exclusive access ☺
♦Was there anything is this book that you really wanted to see happen, or a specific character to end up with another, but during the writing process was unable to deliver? (I understand sometimes story and characters dictate what happens, even if it's almost against the writer's wishes.)♦
Amos: Originally, Roman was supposed to have a different storyline. There was going to be this big thing about his heritage, from Russia, and his journey to becoming an Alpha and taking over the Russian pack. His biological mum was even in the original version of Crimson 1. But we weren't happy with that so…we went in a different direction with that silver blade  There were so many other little things to do with Roman and Rose that we decided to change as the story progressed.
Cassidy: The way it has turned out, and the direction it is going in now feels completely right. We always listen to our instincts and go with the gut, and if it doesn't feel right then it probably isn't. And yes the story has now taken on a life of its own.
♦Who are some of your favorites authors (other than yourselves) or any specific books that are among your favorites?♦
Amos: Some of our ultimate favourites are:
Storm Born by Richelle Mead
The Hunger Games by Suzanne Collins
The Fever Series by Karen Marie Moning
Dime Store Magic by Kelley Armstrong
The Books of Abarat by Clive Barker
Neverwhere by Neil Gaiman
American Gods by Neil Gaiman
Graveyard Book by Neil Gaiman
One of my personal favourite books of all time is Just Kids by Patti Smith. Man, that book made me cry like a baby at the end. Oh and I love Misery by Stephen King!
Cassidy: I read about five books a week and I have so many favourites I couldn't pick just one.
♦Was there a playlist or music of some sort that y'all listened to while writing?♦
Cassidy: I can't write while listening to music. I usually write to the background noise of my husband playing some shoot 'em up game on the X Box.
Amos: Where do I begin? I listen to a lot of Madonna, Tori Amos, Toni Braxton, Mariah Carey, Kylie Minogue and Prince while I write. And it depends on what I'm writing that day who or what I listen to. For example, a sexy scene will have a sexy track to get me in the mood. An action scene will call for something harder.
♦If y'all could have dinner with any 6 people (living or dead) who would you pick (I figure 3 a piece.)♦
Cassidy: If I could have a dinner party I'd have one at Flo's with all the gang from Crimson Land ♥
Amos: I'd have Jensen Ackles, Marilyn Monroe and Madonna. But I'd replace dinner with cocktails and the dining room with a club ♥
*And a side note, not really a question- but I adored your references to 'paranormal' shows- like Sabrina the Teenage Witch!*
Amos: Sabrina rocks! Man, I miss that show!
__________________________________
Some quick 'fun' questions:
♠Which would win in a fight?♠
Amos: Draw!
Cassidy: The werewolf and vampire would realise they had a thing for each other and end up together.
Amos: That's hot!
__________________________________
Amos: EXTERMINATE! Dalek's would win just for the creep-factor!
Cassidy: Nah, the Borg would turn up with can openers and annihilate the Dalek race.
__________________________________
Cassidy: PC, 'cos that's what I use.
Amos: Defo PC!
__________________________________
Batman vs. Superman?
Amos: I can't choose! I want them both!
Cassidy: You're missing the point of the question Amos! Who would win in a fight?
Amos: In a fight over me?
Cassidy: Um…sure…that works.
Amos: Superman. Because he can fly and he is the only man I know who can wear his underwear over his tights and get away with it.
*Pulls out fan for a cool down!*
Cassidy: Batman, because he relies on his intelligence and his inventions to succeed.
__________________________________
Dumbledore vs. Gandalf?
Amos: Gandalf! He is hardcore with his "YOU SHALL NOT PASS!" and coming back from the dead as Gandalf the White! That bloke has got some serious skills! Do love Dumbledore though.
Cassidy: Dumbledore has a phoenix! Although, I do love a man with a big staff. I go with Gandalf too.

__________________________________
Pen vs. Sword?
Amos: Depends on how brave you are!
Cassidy: You can do a lot of damage with words. But I'd prefer a sword if I was in a proper fight.
Amos: I just immediately thought of a zombie apocalypse on this question! What would I use? Again, depends how brave I'm feeling when the walking dead are surrounding me.
__________________________________
Edward (Twilight) vs. Lestat?
Amos and

Cassidy:

LESTAT!

Yum…
__________________________________
♦ IF you are Dr. Who fans, which Dr. Who is your favorite?
And which assistant is your favorite?♦
Amos: I can't decide between David Tennant and Matt Smith…Um…Matt Smith now. Just that little bit ahead. Donna was my favourite assistant because she didn't take his crap!
Cassidy: Matt Smith because he rocks that bowtie and Amy Pond the fiery red head.
__________________________________
♦ Glass half empty or half full?♦
Cassidy: Optimism is what keeps us ticking.
__________________________________
Amos: Seelie! Then I'd marry the king but have a red hot affair with an Unseelie Prince because really I can't choose!
Cassidy: Amos should be writing Erotica. Trust me, you don't want to look inside his head. Used a whole bottle of bleach and its still dirty! To answer the question, I think Unseelie would win.
__________________________________
♦ Red Dwarf or Hitchhiker's Guide to the Galaxy?♦
Amos: I've never seen Hitchhiker's Guide to the Galaxy so it's got to be Red Dwarf.
Cassidy: Red Dwarf! Lister would probably create an army of vindaloo monsters and control them with the threat of a beer bath!
__________________________________
♦ Underworld's werewolf/vampire hybrid-
abomination or awesome?♦
Cassidy: Awesome! I mean, imagine having both sets of abilities. The best of both worlds. Now that's pretty cool.