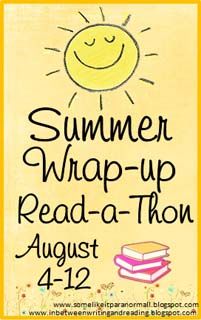 Here is the pile of books I managed to read during the
Summer Wrap Up Read-a-Thon.
*Long Hard Ride wasn't in my original pile, just one I had been meaning to read for a Author Q&A
... and got a Beta unexpectedly, but that's still on the down-low.
and read,
*I really enjoyed participating in a few of the challenges, but wasn't very successful, I believe*
And the final challenge in the Summer Wrap-Up Read-a-Thon was to show y'all places I love to read... but honestly, anywhere I am is my favorite place because I read everywhere: in the line at the grocery store, in my car waiting on a train to go by, at work during lunch, at home while cooking dinner (just to name a few). I am transported by my reading into the world of the book (if it's a good book, anyway,) so I don't have a specific place. But here is a few pictures of me out and about with a book or my Kindle...
In order of appearance:
◘At the Ilona Andrews signing at BookPeople in Austin, TX. (You may not be able to see the signed copy of Gunmetal Magic on the table in front of them. But trust me, it's there.)
◘At the Congress Ave. Bridge in Austin, TX while waiting for the bats to emerge (with my signed copy of Obsidian!)
◘St. Maarten... you can't see me or my book, because I took the picture. But even on my honeymoon in paradise (years ago) I still had a book .... I believe it was Prey by Michael Crichton.
◘At BookPeople once again (in Austin, TX) this time at the 'Chicks Who Kick It' Tour with Kelley Armstrong and Holly Black. Also at the signing, but not in the picture, Cassandra Clare, Rachel Caine, Melisa Marr, and Alyson Noel.
◘Me with my 'Precious' (Kindle on Christmas.)
◘... And finally, ANYWHERE where the temperature gauge does NOT read that (115 F)