In the next book in Molly Harper's beloved Half Moon Hollow paranormal romance series, Gigi starts her first job (at Vampire Headquarters), gets over her first love, and may even fall for her first vampire!

Gigi is no longer an innocent teen. All grown up and looking for love, her family and friends worry she'll go for the sexy, alluring vampire instead of a nice, safe human. But sexy and alluring, with a penchant for biting, could be just what Gigi wants...
My Review:
If I'm being 100% honest... it's a 4½ (not the full 5 stars/hearts/flowers rating that I show below - why, oh why, did I not make ½ ratings? *Note to self: make ½ ratings*)
OK, moving on. The one single thing that made everything worthwhile (and my eagerness to round up my rating to 5): Ophelia getting punched in the face. *Boom*
*and there was much rejoicing*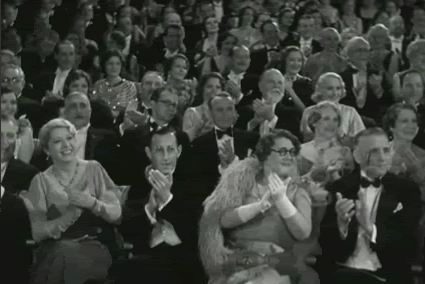 *and there was even more rejoicing*
Seriously, if any character was ever asking for a punch in the face, it's Ophelia. I've developed a long, slow, burning dislike of this perky 'teen' vampire. Well, perky is really more of a nice way of saying sociopath, but I'm a Southern lady and would never use such a crass tone. *smirk*
You want snark? Yup, this one is strong with the snark. Looking for a slightly New Adult Paranormal slant? Why, yes. Rebound's got ya covered. Romance? A strong yes, although it's not so steamy that you'll be embarrassed to read in public. Vampires? Indeed. No sparkles anywhere, just the occasional trashy T-shirt the Dick managed to save. Want to see characters from other books? Granted, not the entire team assembled, but it was quite close and lovely to see previous characters I fell in love with.
I feel I should give a bit of a disclaimer here... the combo of Molly Harper and Amanda Ronconi (narrator) are one of my feel-good drugs of choice. Well, specifically the Jane Jameson and Half Moon Hollow series varieties. They are my happy place, and a near instant auto-buy in audio format. I'm a fan of Molly Harper's PNR books, but her contemporary romance can be hit or miss for me. Long story short, my overall love of the series might be coloring my thoughts a bit on this specific installment. It's not outside the realm of reason.
The reason I'm fighting the full 5 rating on this... while sexual angst and tension ran rampant, it was a hair speedy and I really wanted more background (and just plain MORE in general of) "Mr. Tall Blonde and Bitey". On one hand, this is a fun, flirty PNR in it's hayday - so one expects a little 'fast forward' and improbable, dangerous situations that create a fast, firm bond between Gigi and the mouthwatering vamp. But on the other hand, there are moments I wish for a little less flirt and a little more show and tell of the building relationship. Throw in the fact that this is Gigi we're talking about, and we can throw those hands ALL out the window. She's like the angsty, young adult/new adult little mascot... for vampires?
In the grand scheme of the series, it's not my favorite but it's most definitely not my least favorite. I will most definitely put this on my re-read rotation. If you're looking for some fun and have followed the series*, I'd highly recommend picking this gem up.
*There are some spoilers unless you read the Jane Jameson series first, then read the Half Moon Hollow series.
While I received a free paperback book from XOXOAfterDark as part of their XOXOperts street team, I also purchased the audio as well. I also will happily give Audible my money each and every time there is a Molly Harper/Amanda Ronconi audio available. That should be a BIG NEON SIGN that my thoughts are honest and not just stroking the metaphorical hand that feeds me.
My acceptance of the book in no way guaranteed my review would be favorable.
Author Bio (from website)
When Molly Harper was eight years old, she set up a "writing office" in her parents' living room, complete with an old manual typewriter and a toy phone. And she (very slowly) pecked out the story of her third-grade class taking a trip around the world and losing a kid in each city. She had a dark sense of humor even then.